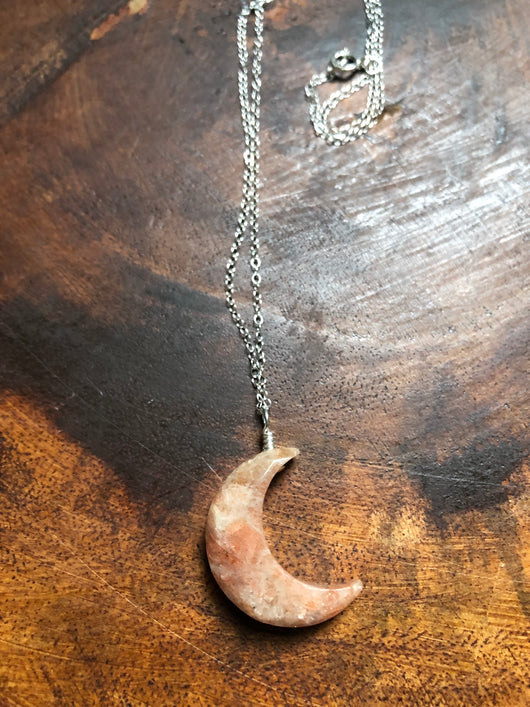 Sunstone Crescent Moon Drop Necklace
Regular price $50.00 Sale
Faceted Sunstone crescent moon on a classic 16" long sterling silver chain.
Referred to as the "Stone of Joy" Sunstone is associated with the Sun's light + energy to sustain Life*
Eco-friendly + Sustainable Packaging: All pieces are packaged + shipped in eco-friendly, sustainable packaging - fully recycled, recyclable, or naturally biodegradable, compostable packing that's better for the health of our planet.
Your new pieces may arrive in reusable 100% natural organic + eco-friendly cotton muslin bags made from recyclable fabric Global Organic Textile Standards (GOTS) or kraft cardboard gift boxes with natural cotton fiber.
Jewelry Care: Exposure to oxygen, moisture + natural oils will cause metals, particularly brass + silver, to tarnish/develop a natural patina over time. To keep your pieces vibrant + looking their best, please remove them prior to swimming, bathing, exercising, etc., and avoid contact with perfumes, hair products, + other chemicals that may cause discoloration. 
There are a variety of natural ways to polish silver + brass + we recommend a simple search of reputable resources that offer instructions on how to keep your metals clean + polished. If your order contains jewelry handcrafted with raw brass components, we will include a small starter polishing cloth with your order (if we have them in stock). The polishing cloth is packaged in a small 100% cotton muslin bags that are eco-friendly, biodegradable, reusable + made in the USA using US grown virgin Cotton.