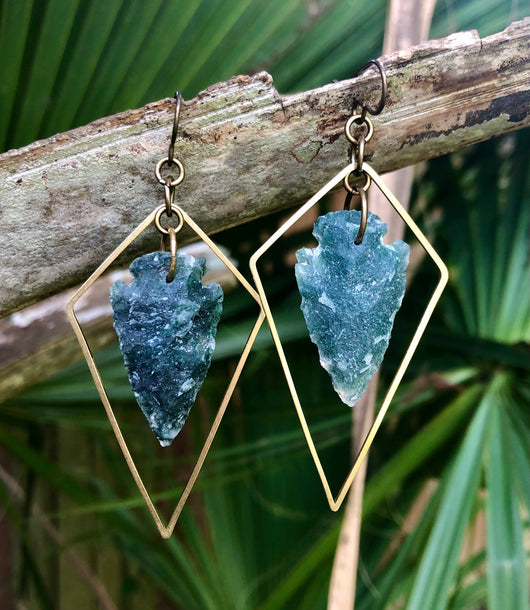 Moss Agate Arrowheads
Regular price $50.00 Sale
Moss Agate arrowheads on raw brass geometric hoops.
Niobium earwire.
Moss Agates considered to be the most powerful of the agates*
The energy of moss agate is believed to strengthen during stressful times + to balance emotional energy*
Moss Agate is often referred to as the agate of the warriors*
The Niobium anodized brass color French hook earwires are made in the USA from Niobium, a metal element that is usually able to be worn by people who have metal allergies. The manufacturer, TierraCast, states that "Niobium is completely hypoallergenic and with proper care will never tarnish or fade." According to another source, Niobium is always nickel free, because it is a pure metal and not an alloy.
Please Note: The pair of earrings shown in these images have sold; however, we have another, ready-to-ship pair in stock. Please know that due to the handcrafted nature of our pieces + use of natural gemstones + crystals, no two pieces are identical, and there may be variations in the stones' natural colors + sizes + in the final product.