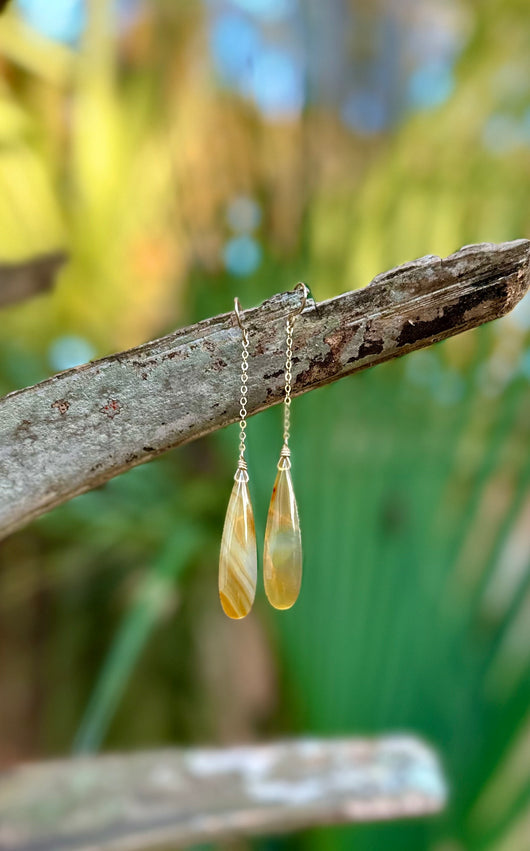 Carnelian Dangles
Regular price $60.00 Sale
These Carnelian teardrops are complemented with 14k gold-filled chain, earwire, wire + rings.
Carnelian has been used since ancient times to aid in moving forward on a new path*
It's believed to provide courage to those struggling with difficulties, including easing sorrow*
Some believe carnelian encourages familial love, as well as promoting a stronger connection with guardian angels*
Due to its variation in orange tones, it was referred to as "the setting sun" by some Ancient cultures *
Please Note: The pair of earrings shown in these images may have sold; however, we have stones in stock to create another pair. Please know that due to the handcrafted nature of our pieces + use of natural gemstones + crystals, no two pieces are identical, and there may be variations in the stones' natural colors + sizes + in the final product. 
Eco-friendly + Sustainable Packaging: All pieces are packaged + shipped in eco-friendly, sustainable packaging - fully recycled, recyclable, or naturally biodegradable, compostable packing that's better for the health of our planet.
Your new pieces may arrive in reusable 100% natural organic + eco-friendly cotton muslin bags made from recyclable fabric Global Organic Textile Standards (GOTS) or kraft cardboard gift boxes with natural cotton fiber.
Jewelry Care: Exposure to oxygen, moisture + natural oils will cause metals, particularly brass + silver, to tarnish/develop a natural patina over time. To keep your pieces vibrant + looking their best, please remove them prior to swimming, bathing, exercising, etc., and avoid contact with perfumes, hair products, + other chemicals that may cause discoloration.