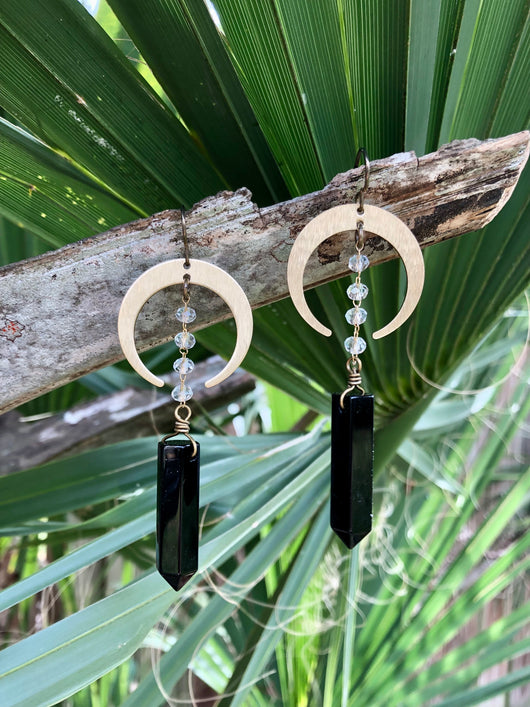 Black Onyx Crescent Moons
Regular price $48.00 Sale
Ethically sourced by a US supplier, these Black Onyx points are paired with linked crystals + raw brass crescent moons.
A powerful Root Chakra Stone, Black Onyx is said to aid in facing one's fears + mastering one's own fate*
Black Onyx is also believed to be excellent for getting rid of negativity + negative thought patterns*
Approximately 3" in length from earwire to tip of stone
Niobium earwire
These anodized brass fishhook ear wires are made in the USA from Niobium, a metal element that is usually able to be worn by people who have metal allergies. The manufacturer states that "Niobium is completely hypoallergenic and with proper care will never tarnish or fade."
Please Note: The pair of earrings shown in these images may have sold; however, we have stones in stock to create another pair. Please know that due to the handcrafted nature of our pieces + use of natural gemstones + crystals, no two pieces are identical, and there may be variations in the stones' natural colors + sizes + in the final product. 
Eco-friendly + Sustainable Packaging: All pieces are packaged + shipped in eco-friendly, sustainable packaging - fully recycled, recyclable, or naturally biodegradable, compostable packing that's better for the health of our planet.
Your new pieces may arrive in reusable 100% natural organic + eco-friendly cotton muslin bags made from recyclable fabric Global Organic Textile Standards (GOTS) or kraft cardboard gift boxes with natural cotton fiber.
Jewelry Care: Exposure to oxygen, moisture + natural oils will cause metals, particularly brass + silver, to tarnish/develop a natural patina over time. To keep your pieces vibrant + looking their best, please remove them prior to swimming, bathing, exercising, etc., and avoid contact with perfumes, hair products, + other chemicals that may cause discoloration. 
There are a variety of natural ways to polish silver + brass + we recommend a simple search of reputable resources that offer instructions on how to keep your metals clean + polished. If your order contains jewelry handcrafted with raw brass components, we will include a small starter polishing cloth with your order (if we have them in stock). The polishing cloth is packaged in a small 100% cotton muslin bags that are eco-friendly, biodegradable, reusable + made in the USA using US grown virgin Cotton.